Nutrition facts label refers to the black and white table located at the back of a food item that depicts the nutrients and calories it contains. Lots of shoppers often consider it a waste of time to carefully study the table when there is still so much shopping to do. Nutrition facts labels were added for a reason, however; they let us know just what we are purchasing contains; the number of nutrients and calories in it and where those calories come from.
Understanding nutrition facts labels are very essential when grocery shopping to enable you to make the right choices tailored to your diet and lifestyle. Though different regions and countries have specific standards and guidelines, the basic information remains very similar.
Here are the steps to take when reading nutrition labels:
Step 1: Check the serving size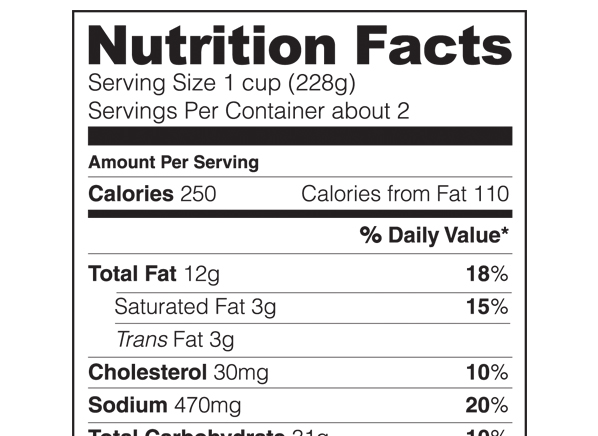 The first place to start when you look at the Nutrition facts label is the serving size and the number of servings in the package. Serving sizes are standardized to make it easier to compare similar foods; they are provided in familiar units, such as cups or pieces.
Compare the serving size on the package to the amount that you eat. If you eat the serving size shown on the Nutrition facts table you will get the number of calories and nutrients that are listed.
Step 2: Look at the calories
Calories tell you how much energy you get from one serving of a packaged food. Based on a 2000 calorie a day diet, 40 calories is low, 100 is moderate and 400 and above is high. It is also often indicated how much calorie comes from fat to help you with your portion control.
Step 3: Look at the percent Daily Value (% Daily Value)
Percent Daily Value puts nutrients on a scale of 0% to 100%. This scale tells you if there is a little or a lot of a nutrient in one serving of a packaged food. Use this percentage to compare the nutrient content of different foods; 5% DV or less is a little while 15% DV or more is a lot.
Step 4: Know what to limit
The nutrients frequently consumed are usually printed on a yellow background, these are; saturated fat, trans fat, cholesterol, and sodium. Try as much as possible to limit your consumption of these nutrients. Eating too much of these may increase your risk of certain chronic diseases, like heart disease, some cancers, or high blood pressure.
Step 5: Eat more of these
We don't often consume enough of the healthy nutrients like dietary fiber, vitamins, calcium, and iron. These are usually printed on a blue background and are indicated by the percentage based on serving size. Eating enough of these nutrients can improve your health and help reduce the risk of some diseases and conditions.
Now that we've given you pointers in decoding nutrition labels, we hope you apply them on your shopping trips. This will go a long way in helping you select the best products for your diet and lifestyle.
Did you find this article informative? How often do you read nutritional labels and what are your thoughts on them?
Share with us in the comment section below.